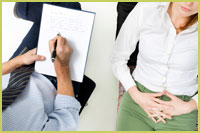 During therapy, you will actively explore your mood, feelings, thoughts and behaviors in hopes of learning how to take control of your life and respond to challenging situations with healthy coping skills. Individual therapy is an organic and naturally unfolding process whereby the therapist and client collaborate to define the goals of therapy and the means of achieving those goals in an open, supportive, and confidential environment.
During the first meeting with your therapist, you will be asked to describe your concerns and what you hope to gain from therapy. The number of sessions that someone meets with a therapist generally depends on the issues that are to be addressed, the severity of the issues, and existing coping mechanisms of the individual. Sessions generally last 50-55 minutes.
To schedule your first appointment, call our office at (404) 478-9890.