Do You Wish You Had Time For Therapy?

Is your metal health going through a rough patch, but you don't have time to slow down and address your needs? Between busy work days, long commutes, and other daily burdens, perhaps adding therapy to your life would pose an inconvenience—another item on a never-ending checklist of obligations. Or maybe you have kids at home, and going to a therapist's office isn't doable to begin with. Moreover, in a world radically upended by the COVID-19 pandemic, you may not feel safe going to in-person counseling.
Nonetheless, neglecting your challenges won't make them disappear. When left alone, negative thoughts and emotions tend to distort reality and keep us from seeing things as they actually are. Put simply, we often identify so strongly with our thoughts and emotions that we forget there are other perspectives and ways of looking at the world. Over time, if we don't correct the way we think, we often get stuck in the same old patterns of behavior.
In order to break these cycles and see your thoughts and emotions for what they are, you must learn to distance yourself from them and view them from an unbiased perspective. With the help of an online counselor, you can gain insight into your feelings and learn practical ways to control negative thought patterns so that they no longer control you.
Online Therapy Is Practical And Facilitates Quicker Learning For Many People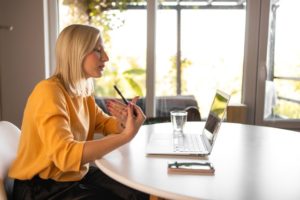 Virtual counseling has been popular for a while now. In the wake of COVID-19, however, it's use has become more widespread than ever before. It's more practical and scheduling is more flexible. With online therapy, you get to talk to a counselor from the comfort of your own home, your car, your bedroom, or wherever you feel most at ease. What's more, online counseling often facilitates quicker learning. Because you're in your natural element, you can integrate new skills more effectively.
In our area of Georgia, e-therapy has been the norm for a long time. Traffic is already a nightmare for most people in Atlanta, so going to in-person counseling before or after work would just exacerbate long commutes and chaotic schedules. Combined with the introduction of COVID-19, this makes online therapy the most suitable option for many locals. Given the reach teletherapy has, you can find support even if you don't live in the immediate area.
If you want help for depression, anxiety, relationships, or any other concerns, don't let traffic, busy schedules, and COVID-19 get in the way. Intown Counseling & Wellness offers a healthy, reputable alternative to in-person therapy. Together, we can help you learn to expand your self-awareness, manage your emotions successfully, control your thought process, and find balance in your life.
Online Counseling Allows You To Unwind, Be Yourself, And Conquer Your Stressors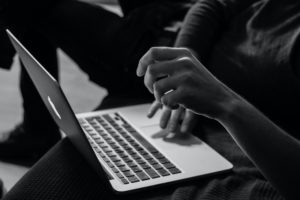 In the professional world, it often feels like there are a million pretenses to maintain. Everyone wants to look like they have it all together, like they're not struggling underneath. Over time, this charade gets exhausting.
Our counseling sessions offer a respite from all the pretense. Here, you are free to be yourself and vent your troubles without any constraints or fear of judgment. What's more, we have adiverse team of therapists with a wide range of talents, approaches, and life experiences. Whether you're dealing with anxiety, depression, relationship issues, or any other troubles, our staff has the insight and compassion to help you achieve your goals and conquer your stressors.
For our online sessions, we use Healthcare Zoom, a HIPAA-compliant platform that allows multiple people to video conference at once (which comes in handy for couples counseling and group therapy). We also utilize phone therapy for clients who prefer it. The process for getting started with us is extremely straightforward. You can either contact us by phone or through our website. You'll then speak with our office manager to decide which counselor is the best fit for you and your needs. From there, we'll work together to determine an appointment time and fill out the preliminary paperwork. The first appointment will largely be diagnostic, giving you the chance to share the presenting issues and the goals you have for therapy.
There is a wide array of approaches we draw from, but the one modality we utilize most is Dialectical Behavioral Therapy (DBT). At its core, DBT aims to help you regulate distressing emotions, manage stress skillfully, be mindful and present, and communicate your needs effectively. You will learn real-life skills for achieving self-awareness, mindfulness, emotional regulation, and conflict management. One of the perks of our practice is DBT online group therapy, which can be part of your individual treatment plan.
Regardless of what your struggles are, our team boasts a wide range of experience, talents, and resources to help you find healing in your life. What's more, we can accommodate your busy schedule. Our approach to virtual therapy ensures you get the help you need at your own convenience.
You may have some concerns about online therapy…
Does online counseling work?
There is a wealth of research to suggest that yes, it does! Studies have repeatedly shown that clients who use teletherapy find equal satisfaction as those in face-to-face sessions.1 Moreover, online counseling makes it easier for you to get comfortable during sessions. Because some find the idea of sitting down in an unfamiliar office intimidating, e-therapy offers greater relaxation.
Is online therapy covered by insurance?
Some insurance policies do—but some don't. Thankfully, most insurance companies are covering counseling expenses during COVID-19, and also handling the cost of co-pays. Before attending therapy, we recommend you check with your insurance provider. Regardless of whether they provide coverage or not, we encourage you to seek help sooner rather than later. By making a small investment now, you can find confidence, fulfillment, and contentment in the years to come.
Will I be able to stay with my therapist when COVID-19 ends?
Of course! Although COVID-19 has shaken things up a bit at our practice and we've moved to teletherapy full-time, we plan on switching back to in-person when the pandemic is no longer a threat.
Find Self-Care In These Stressful Times
If you wish you had time to squeeze counseling into your busy schedule, look no further. Intown Counseling & Wellness has a team of insightful and compassionate therapists to address your needs in virtual sessions. To get started, you can call us at 404-536-7680 or book appointments here on our website. Each of our therapists have different schedules, but in general, most of us are available from 8 AM to 7PM on weekdays.
Because of COVID-19, all our counseling services are online right now.