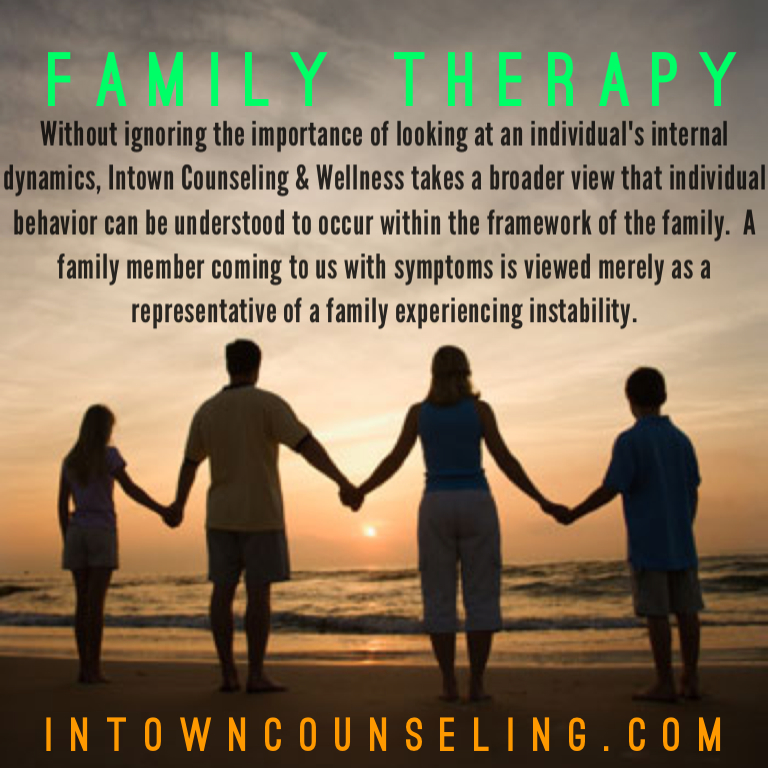 Family Therapy
While individual therapy is by far the majority of what we do at Intown Counseling and Wellness, we also get a lot of requests for relationship counseling, couples counseling, family therapy, marriage counseling and pre-marital counseling. When people initially call our office seeking therapy, they're often unsure which of our services will serve them best. After getting some details about their concerns we consider treatment options while considering the individual and their family system.
Without ignoring the importance of looking at an individual's internal dynamics, our practice takes a broader view that individual behavior can also be understood to occur within the framework of the family. A family member coming to us with symptoms is viewed merely as a representative of a family experiencing instability. The identified patient is thought to be expressing what other family member are thinking and feeling, but unable to acknowledge or that their behavior is diverting attention from other family problems.
The family structure today is very diverse and has evolved a great deal. Pulling from the popular television show Modern Family, our practice relies on traditional therapies when working with Atlanta's modern families. Some of the families that we work with include married or soon-to-be married couples, cohabitating gay, lesbian and heterosexual couples, single-parent-led households (divorced or never married), families led by grandparents, and foster families to name a few.
Each family is unique in its rules, member roles, power hierarchy, communication styles and its way of problem-solving. Within our family system, individuals are tied to one another by powerful emotional attachments that usually endure over the lifetime of the family. The power of the family is deemed so strong that despite the possible separation of its members by vast distances and sometimes even death, the family's influence remains.
Family therapy isn't solely focused on one particular individual, even if only just one family member is engaged in treatment. We frequently get calls about couples counseling when one partner is not receptive to the idea. If you want to improve your relationship, work on yourself—even without your partner, therapy can be a powerful experience. As you begin to make changes, your partner's behavior may also change. Even if your partner never goes to therapy, going alone can help you deal with the stress of relationship problems. Regardless of your situation, finding help requires speaking to a licensed professional counselor who will sit down with you to find out what will work best. No treatment fits everyone and understanding one's unique situation is needed to determine how to move forward
By Scott J. Leenan, MS, LPC, CRC